05/10/2019
Dear colleagues and friends,
Russian-Slovenian Business Club is pleased to host the Gastronomic Dinner of Russian cuisine with Russian traditional drinks tasting.
The event will be held on Tuesday, May 21th, 2019, 7.00 p.m. in Hotel "Lada-Resort", Restaurant "Ladya", Togliatti, Lesoparkovoe shosse 55.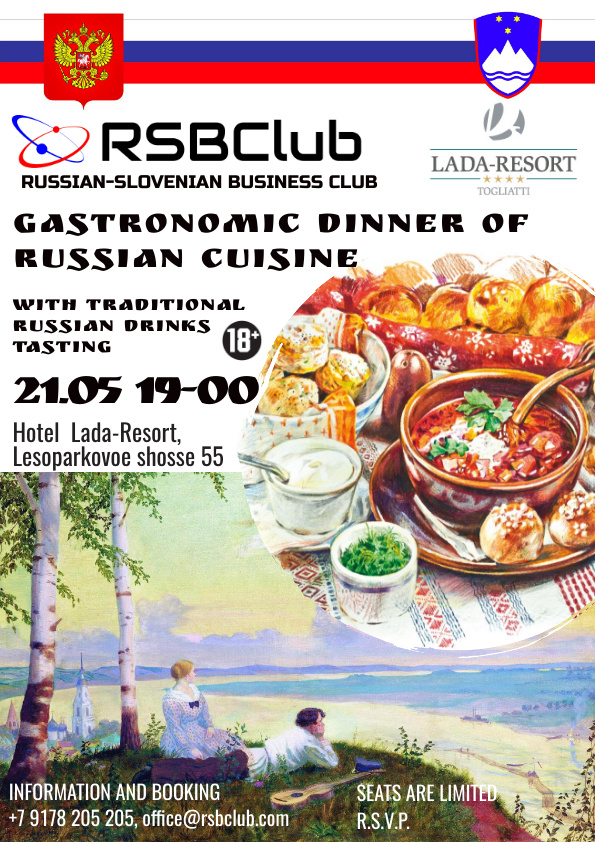 Agenda of the culinary event:
Welcome drink;

Set menu;

Russian traditional drinks;

A fascinating story about recipes and ingredients of Russian cuisine;

Russian folk music;


The "Russian Soul" Folk Ensemble;

Elegant evening's host;


Nice audience and pleasant atmosphere.
Information:
+7 9178 205 205, office@rsblub.com
Contact person:
Putkina Anastasia, Director of the Russian-Slovenian Business Club
We are looking forward to welcome you at Gastronomic Dinner of Russian cuisine!